Love geeky stuff? How about a whole room? Here are some of the most mind-blowingly geektastic rooms, apartments and houses you could ever hope for.
Star Trek Federation Apartment, Engage
This is actually a bit of a sad story, as Tony Alleyne spent ten years converting his apartment to look like a shuttle craft from Star Trek: The Next Generation. All in all, he estimated it would have cost around $140,000 in parts and labor to hire a contractor to do the work.
Unfortunately, Tony's wife, who he separated from when he started working on the apartment, owned the property. When the couple finally filed for divorce in 2012, she decided the apartment would be worth more without the Star Trek theme, so she gutted the work done and now this marvelous tribute to one of the world's most popular sci-fi franchises is no more than a memory. At least we can still enjoy the pictures and remember what once was.
Allons-Y With the TARDIS Control Room
The interior of the TARDIS may change with every reincarnation of The Doctor, but the heart of the ship remains the same. And a lot of heart is precisely what makes this amazing TARDIS control room by JP Fox so fantastic.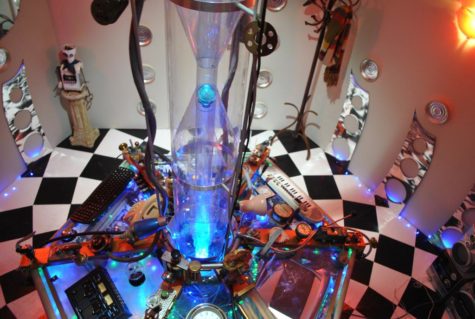 JP did all the electrical, lighting, design, painting and construction himself within one ear. He was able to do it on a fairly tight budget as well, since he already owned all the timber and works at a factory with random spare parts that worked perfectly to decorate the console.
Basement to Bridge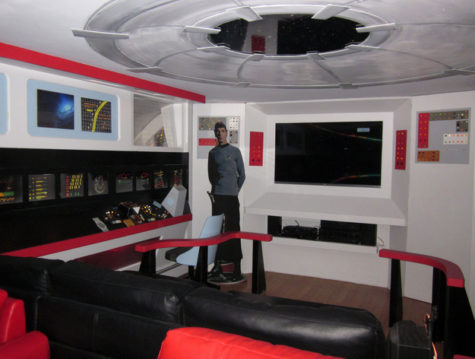 For those who aren't sure about converting their entire home into a tribute to their favorite tribble-filled sci fi program, the basement is a great place to start. Trekie Line Rainville, spent $30,000 renovating hers to look like a ship Captain Kirk could walk into at any minute. The Canadian social worker re-created parts of the transporter room, recreation room, observation deck, Spock's quarters, and, of course, the bridge.
Originally, the idea was to just make a home theater where Line could relax, but once she started, she soon became obsessed and couldn't stop until the whole basement was completed.
The Home Theater You're Looking For
When you think about Hawaii, you probably don't imagine any of the sets or characters from Star Wars, but if you visit this stunning mansion in Honolulu, you might. That's because tucked in the massive space is quite possibly the best home theater dedicated to Star Wars in the entire galaxy.
The ceiling features a 3D fiber optic starscape and the door is motorized to look and operate the same way as those on Disney's Star Tours. Inside the theater are life-size replicas of R2-D2 and C-3P0 that talk to the audience while the film isn't playing.
The ceiling features a 3D fiber optic starscape and the door is motorized to look and operate the same way as those on Disney's Star Tours. Inside the theater are life-size replicas of R2-D2 and C-3P0 that talk to the audience while the film isn't playing.
Drink With The Dark Side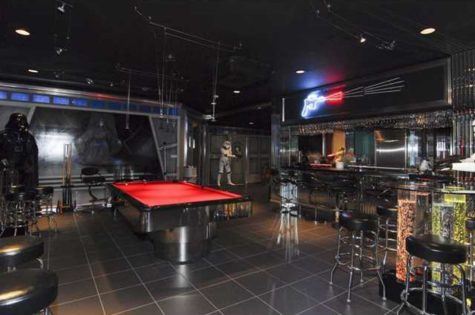 This mansion in Carmel, IN has its own bar complete with a Star Wars theme. Unfortunately, the owners opted not to replicate the Mos Eisley Cantina, but getting to show Darth and The Emperor your billiard skills while staring at the stars of a distant galaxy is still pretty fantastic. Best of all, this home can be yours at the cool price of $4.5 million.
Where No Theater Has Gone Before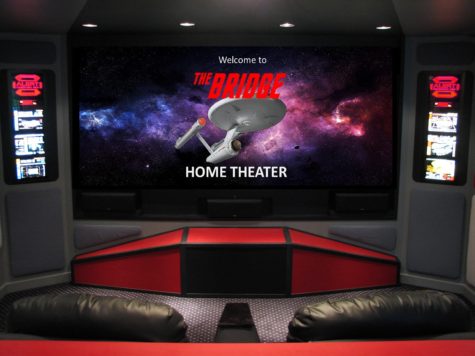 This fan-made home theater was made primarily with lumber, dry wall and love.  The home owner, Gary Reighn, converted a corner of his unfinished basement into the theater. The great thing about this project is that it shows that you don't need to be a millionaire just to have a home theater, even one with an amazing theme. You just need some creativity, time and imagination to make it work.
The Painting on the Walls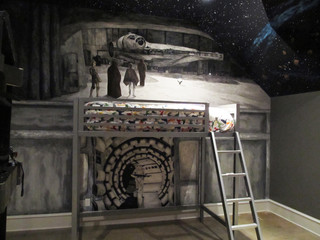 If you really want an amazing sci fi room, the walls are a great place to start and Tony of Walls of Art in Minneapolis has quite the skills when it comes to turning an ordinary white wall into an epic Star Wars scene. Here are just a few examples of his amazing artwork that manage to take a pretty typical room into a science fiction themed masterpiece in no time.
Open the Stargate
Despite their popularity, anyone who has even basic knowledge of geek culture knows that Star Wars, Star Trek and Doctor who are far from the only worthwhile sci fi franchises out there. And when it comes to home design, this Stargate theater might just be the most beautiful sci fi room out there.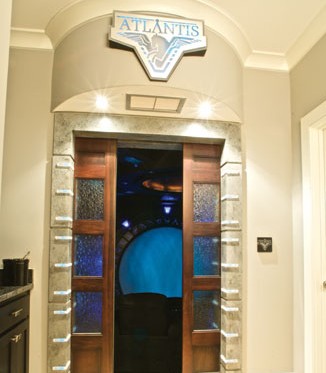 The ceiling reveals a night sky filled with stars and swirling comets that appear at 30 to 60 second intervals. It can even be adjusted for different effects such as clouds. The 96 inch screen is located within the legendary Stargate itself, which is made from fiberboard adorned with the glyphs that are backlit with Christmas lights. The circle within the Stargate can light up blue so it even looks like the Stargate does before transport.
Most people might not have the time, energy or money to dedicate to converting part or all of their living space into a shrine to their favorite sci fi franchise. But even for those who would never consider doing so, these great designs provide some great inspiration for minor home redecorations –especially when you're looking to make your house feel a little more futuristic.