Luckily, like any good mama, this cat still loves her babies, even if they are a bit feathery.
Ever wonder what would happen if someone adopted a bear from birth and kept it as a friend and family member? Here's a great photoshow displaying all of the fun. The marriage images are wonderful.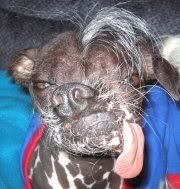 In one of the world's newest, meanest, funniest and all-around best competitions, Pee Wee Martini (right) was NOT named "World's Ugliest Dog." Personally, I think this little beast of an animal beat out the winner, Gus, by a long shot as far as looks go. I mean look at the crooked nose and mangled tongue -he makes Rosie O'Donnell look good.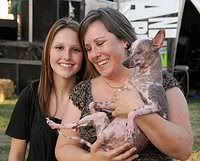 But Gus (left) won, and I'm glad he did because he's got the story behind the title, he has been fighting skin cancer for years and came from a bad home. Plus, he lost his back leg to cancer and an eye to a cat of all things. He's a lover and a fighter and he will be in the hearts of all who love his little spirit long after the contest. Go Gus!
In related news, Neatorama has the story of Jenny, Britain's Most Unwanted Dog. Poor Jenny was in the shelter for a whooping 11 years and has only now been adopted. I love this story and the people who were willing to give her a good life after all those years in the shelter. Hooray for Jenny!