Thursday, July 3rd, 2008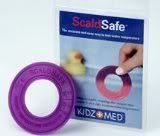 GONE!
So I have this weird scald-safe invention I have no use for at all. But I hate just throwing things away. Who wants one? First commenter gets one -be sure to use your real email so I can contact you for your info and what not. Oh, and US addresses only please. I can't afford international shipping right now.
I'll be clearing my house of more things soon, so stay tuned for some books and more.