Some people like to put up a few cobwebs and fake crows around their house to make it ready for Halloween, but there are others who really want kids to earn their candy by facing their fears as they fearfully creep up the walkway to the front door. If you fall in the second category, then you know it's time to start decorating because horrific haunts won't build themselves. While you're planning this year's spooky spectacular, here are a few delightfully dark decorations you might want to add to your scream scene.
Rotting Corpses
There are almost as many ways for people to create spooky rotting corpses as there are ways for corpses to disintegrate after death. Ultimately, the decision on which technique to use should come down to your budget, your time constraints and which end result you prefer for your spooky setting. Here are a few methods you might want to look into: Instructables user BeautyandBeast's method involves liquid latex, panty hose and craft paint;  Instructables user Spyridoula Nemesis suggests using plastic tarps, a heat gun and wood stain; and Yard Haunt uses cheese cloth, wood stain, spray adhesive and spray paint.
If you're not that crafty or just don't have the time to invest, you can always buy a precorpsed skeleton like this creepy cat one by Junebugsjunktique on Etsy. Just do a search for "corpsed skeleton."
Grave Grabber
What's better than a creepy corpse? How about one that moves, leaving it to eternally attempt to crawl from the grave into our mortal world? This tutorial by Yard Haunt can show you how to really creep out the kiddos this year.
Deadly Spider Web
Here's another idea for fake skeletons -create a creepy spider web complete with the remains of its human victims. Hector Turner's creation process seems fairly simple as it involves little more than plastic wrap, cotton batting, glue and fake spider webs. You can also do this on a corpsified skeleton to make a really chilling scene.
Skeleton Wreath
Admittedly, this skeletal wreath by Mommy With No Money is cool, but not terrifying in its current form. If you corpsify your skeleton before bundling it into a wreath though, it's easy to imagine that this greeting piece could become downright ghastly.
Alternatively, if you prefer to buy a wreath rather than make your own, while most of the designs on Etsy are cutesy, this one by Anastasia Artifacts is pretty cool, though again, it could have been way scarier if the bones were corpsed first.
Dead Body In A Bag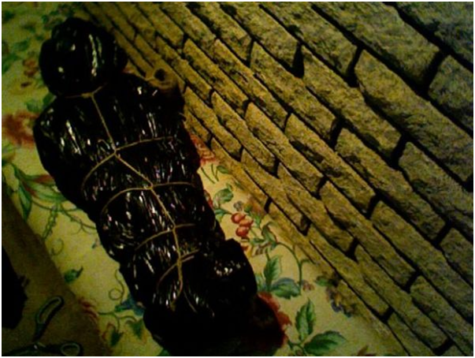 You don't always have to go full gore to set a scene. In fact, sometimes showing less can be even more scary, like this dead body wrapped up in plastic. Best of all, since all you need to make this prop is newspapers, trash bags, string and duct tape, the whole thing costs about $3 in supplies.
The Creepy Well from The Ring
Even those that didn't like The Ring still agreed that the well-dwelling little girl was totally terrifying. Lothar's Lair has a tutorial to make one of your very own and, best of all, it's motorized so your guests can howl in fear as they see the monstrous girl climbing from your stone well.
The Grim Reaper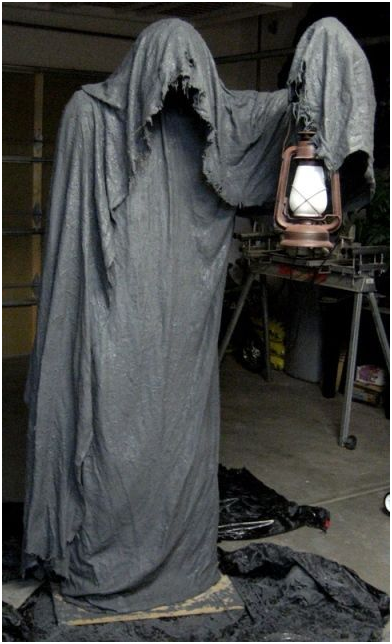 Wire, wood, PVC, drywall mud, latex and burlap can be amazingly spooky when put together just right. In fact, Halloween Forum user jimmyzdc used these materials to create a uniquely creepy version of the Grim Reaper and he was even kind enough to include all the steps so you can create your own.
Dead & Breakfast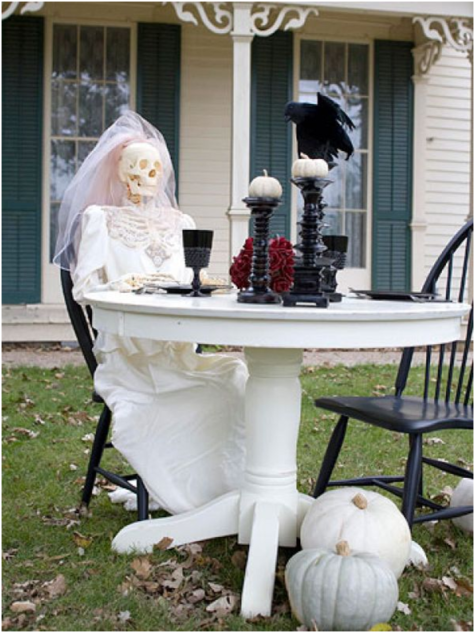 If you want to go with an overall theme but are tired of graveyards and horror flicks, this idea by Better Homes and Gardens is refreshingly different. Their "Dead & Breakfast" is both creepy and charming -just like some real B&Bs. Their layout has some truly wonderful details and we particularly love the welcome sign and the lonely bride.
If you love the dead and breakfast idea and want a sign to really help sell the theme, Etsy has a huge array of Dead and Breakfast signs that feature a wide variety of fonts, sizes, imagery and hanging styles. We're big fans of this Sleepy Hollow Dead and Breakfast sign by KatydidCraftsShop.
Spooky Scarecrow
Here's another scarecrow idea sure to scare the pants of your Halloween guests. It's truly amazing how nightmarish a skull covered in wet burlap can look. Add some sticks for the arms, a hat and a coat and you'll have people getting goose bumps before they even get to your doorbell.
Talking Mirror
This cool video technique by Instructables user davidandora can work for either a dark fairy tale or a haunting depending on the set up. The trick is to create a custom mirror frame that can hold (and hide) a flat screen monitor so you can show a ghostly image trapped inside the mirror.
Singing Pumpkins
Fans of Disney's Haunted Mansion will immediately recognize this singing pumpkin illusion by Instructables user davidandora as the same one used on the singing busts in the graveyard scene. While the materials needed for this project aren't cheap, if you already have access to a good projector, you might want to try this cool illusion at your house. The effect is particularly powerful when you surround your singers with regular carved Jack-o-lanterns. Just don't be surprised when little ones get upset because they don't know how those pumpkins have come to life.
Pepper's Ghost
Granted, the LEGO images used to illustrate this tutorial by DIY Hacks and How Tos isn't particularly scary, but if you successfully incorporate this classic trick into your Halloween decorations, people are bound to be creeped out by the moving, translucent "ghost" you created.
Haunted Soul Tree
Anyone who has ever wandered through the forest alone at night knows how eerie trees can be. This animated haunted soul tree by Instructables user dionicia12 is a great way to take advantage of those natural human fears. Even if you don't quite have the skills to make the tree come alive, the basic design is pretty chilling even without movement.
Have any creepy Halloween decorations you're particularly proud of? Share them with us in the comments!